You know the brand name, you have probably even worn their shoes at some point, now you can sell their shoes or apparel and earn money doing it.
What is the first thing you think of when you see or hear the name adidas? Shoes?
If you are a frequent reader of this site's blog you know that we try to keep you up to date on what merchants are hot with promotions. We do our best to present you with only merchants that we feel will give you the best opportunities to make high commissions by showing your readers quality products.
Make sure you have signed up with Shareasale, then head back over here and get yourself affiliated with adidas to start making more money!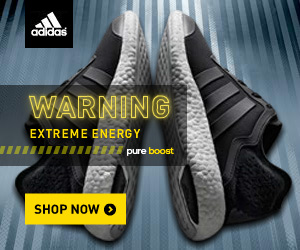 The name adidas has always meant quality and gives your reader (and eventual buyer) the trust in a name they know and have heard much of their lives.
Highlights of the adidas Affiliate Program:
Up to 7% commission on all sales
30 day cookie
Worldwide brand awareness
Data Feed available with over 3,500 products
Monthly newsletter with updates on promotions, contests, and sales opportunities
Award-Winning Affiliate Management Team dedicated to your success from Acceleration Partners
Cons of the adidas Affiliate Program:
While the 7% commission rate is not the highest in the industry, making sales from this merchants affiliate program is better than making 4% from many others. You also have the brand name recognition which helps boost sales.
Examples of adidas Advertising Banners
Why Are We Recommending adidas To You?
As of this writing there are no known nexus state restrictions for affiliating with adidas. That makes this company an exceptionally awesome merchant to promote!
The datafeed for adidas is already in your Easy Product Displays Shareasale database!
Are You Ready To Sign Up Yet?
This merchant is NOT set to auto approve so be prepared to add some information about your site for the merchant to get you approved more quickly.

Use Easy Product Displays To Put Products On Your Blog!
Easy Product Displays is the easiest way to get affiliate products onto your blog. We call it EPD for short and our tool makes it super easy and super fast to build beautiful product displays, then copy and paste the HTML into your blog.
Here is an example product display!
As you can plainly see, it is not just about shoes! Easy Product Displays made this display simple to make and it looks beautiful!
 adidas ZX Windbreaker Solar

 adidas ZX Flux Shoes

 adidas Zip Cardigan Black

 adidas Yoga Hooded Jacket

 adidas Yoga Graphic Tee

 adidas Yoga Seamless Tank

 adidas Zeitfrei Fitfoam Flip-Flops

 adidas Yoga Mat Cement

 adidas XMAS DAY SWINGMAN

Sign Up For Easy Product Displays
EPD offers more than 20 custom product templates to pick from. Add single products or multiple products. We have a 3 day free trial and several sign up options. Try out our affiliate marketing tool today! You won't be able to live without it!


For Those Who Live in Nexus States
Form an S-Corp and Benefit from Tax Advantages! Get Started with CorpNet® for as Low as $79 Today!
Get an address in another state with Mailbox Forwarding – View Your Paper Mail Online Enter the promotional code"freemonth" during signup!